Well-known member
Staff member
Mar-13, 2022, Forex trading daily analysis and Currency market latest updates, by Forex Forum.​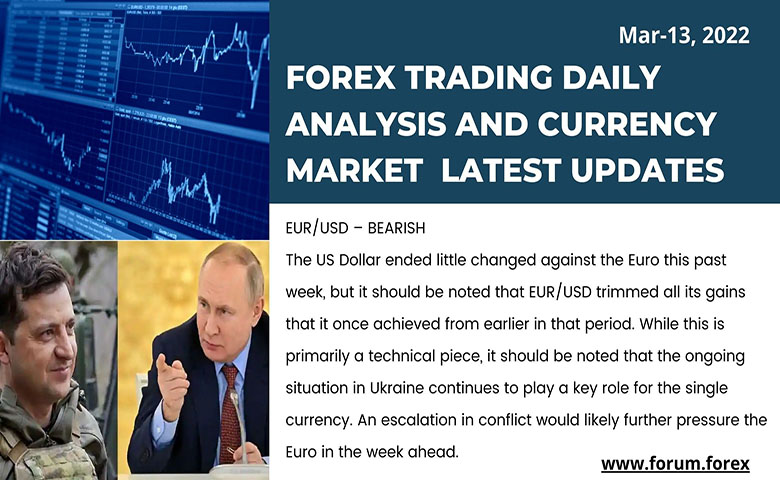 EUR/USD – BEARISH​
The US Dollar ended little changed against the Euro this past week, but it should be noted that EUR/USD trimmed all its gains that it once achieved from earlier in that period. While this is primarily a technical piece, it should be noted that the ongoing situation in Ukraine continues to play a key role for the single currency. An escalation in conflict would likely further pressure the Euro in the week ahead.
Closing under the March 7th low at 1.0806 exposes the bottom from April 2020, making for a key zone of support from 1.0727 – 1.0793. Beyond that sits the 2020 low at 1.0636 and under that is the 138.2% Fibonacci extension of 1.0496. In the event of a turn higher, keep a close eye on the 50-day Simple Moving Average (SMA) as well as the former 1.1122 – 1.1186 support zone. The latter could step in as new resistance.
On the other hand, It's no secret that USD/JPY has been trending consistently higher for nearly six months now, but some traders have been caught off guard by the ferocity of Friday's move through resistance.
USD/JPY, the pair has been riding its 50-day EMA higher since September, though the price action over the last four months could be better characterized as an ascending triangle, with higher lows showing increasing pressure on a horizontal level of resistance, in this case at 116.35. The textbook explanation for the pattern is that once an instrument breaks above its resistance line as we saw Friday.
AUD/USD – NEUTRAL​
The US Dollar slightly gained against the Australian Dollar this past week, with AUD/USD leaving behind a Bearish Engulfing candlestick pattern. A confirmatory close under the former 0.7273 – 0.7314 resistance zone, which seems to be holding as new support, could open the door to reversing the February uptrend. Such an outcome would place the focus on rising support – blue lines on the chart below.
Rising support could maintain the upside focus. Still, falling resistance from February 2021 continues to guide the pair lower. With that in mind, these converging trendlines may keep the Aussie in a consolidative state until a breakout is found. Immediate resistance seems to be the 78.6% Fibonacci retracement at 0.7430. Above the latter is the October high. Breaking under rising support exposes the January low.
Elsewhere, The USD/RUB pair is hovering near its all-time high as investors avoid the toxic Russian ruble. It is trading at 114.8, which is a few points below its all-time high of 121. It has jumped by over 50% this year and more than 64% from its lowest level in 2021.
For getting daily latest
currency trading
news and updates join a forex forum.
Russia crisis escalates​
The Russian ruble has collapsed in the past few three weeks as investors react to the ongoing invasion in Ukraine.
Russia says it killed up to 180 foreign fighters based in Ukraine in a missile attack on a military base close to the Polish border.
Moscow added that the strike on the base, which is west of Lviv, had destroyed a large amount of weapons supplied to Kyiv by the West.
"As a result of the strike, up to 180 foreign mercenaries and a large cache of foreign weapons were destroyed," Russian defence ministry spokesman Igor Konashenkov said.
Ukraine said earlier today that only 35 people had been killed and 134 wounded in the attack.
Military experts said Russia had targeted the training centre – the most westward of any shelling yet – in an attempt to warn off foreign fighters and stem the flow of military equipment from the West into Ukraine.
You can learn more about forex trading and World economical news and updates at
forum.forex
This is the forex forum for beginners and professional currency market traders. Discuss and share forex trading tactics, currency pairs, tips and forex market data. Analyze forex brokers, leverage and signals providers.
Thank You