Learn how to protect yourself from forex fraud and scams, with Forex Forum.​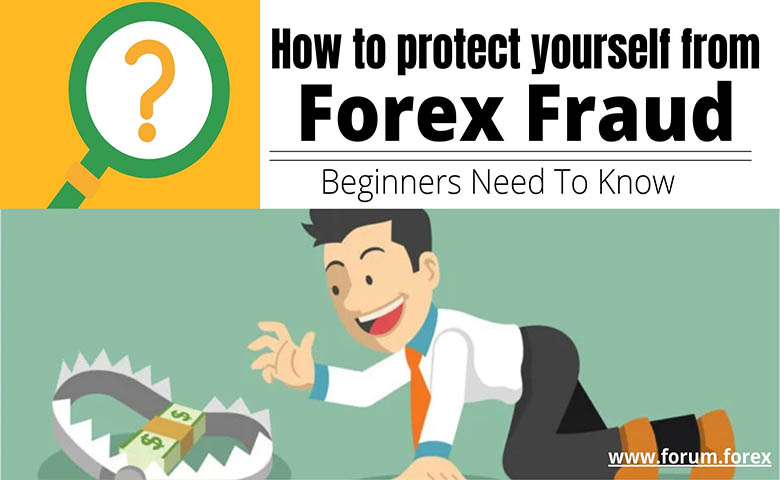 ​
When you enter the world of Forex trading, you will realize that there are as many Forex scams as there are legitimate opportunities to earn big and become successful. You have to learn how to protect.
When you enter the world of Forex trading, you will realize that there are as many Forex scams as there are legitimate opportunities to earn big and become successful. You have to learn how to protect yourself from these scams.
Most of the Forex scams occur and involve the desire of the people to avail of a good system that will automate the trading process and make things easier and convenient for them to earn profits. But there are also many people who see this as a lucrative way to stash money from others.
WHAT IS FOREIGN EXCHANGE FRAUD?​
Foreign exchange fraud, sometimes known as forex trading fraud, is the use of any kind of trading scheme to defraud currency traders by convincing them that they can expect to gain a high profit by trading in the foreign exchange market.
How Forex (FX) trading and brokerage scams work
Most consumers report they have initially received some returns from the firm to give the impression that their trading has been a success.
They will then be encouraged to invest more money but at this stage or soon after the returns stop, their account is suspended and there's no further contact with the firm.
Many scam firms claim to be based in the UK and even claim to be FCA authorized.
Main types of forex scam​
New ways are being invented all the time of how to defraud people in forex scams and other money scams. But there are four main types in the forex market: Pyramid schemes, ponzi schemes, forex robot scams and forex signal scams.
1. Forex Pyramid Scheme
Pyramid schemes earn money by recruiting new paying members of the scheme. The owner of the forex pyramid scheme does not make money by trading forex by rather from the fees that new forex investors pay to join the scheme. It is called a pyramid because this second layer of recruits to the scheme will then hire even more new recruits for a third layer of investors.
2. Forex Ponzi scheme
Ponzi schemes are basically fake investment management companies. Instead of people paying a fee like in a Pyramid scheme, people will invest their money into the scheme. The owner of the scheme will entice investors to invest with a forex guru of some kind, typically a called a 'forex money manager'.
3. Forex robot scam
A forex robot is a computer algorithm programmed to place trades in the forex market. The most popular forex robot trading platform is Metatrader, where the robots are called EAs (short for Electronic Advisors). Again, there are legitimate forex robots that make money as well as forex robots that were made with the best intentions by their creators but that just do not make money.
4. Forex signal scams
Forex signals services are a subscription to receive buy and sell alerts in the forex market. The basis for this scam is almost identical to the forex robot scam, except instead of paying a one-off fee to buy the robot, signal services offer subscription service to receive the buy and sell alerts. Like with robots, there are real forex signal services that provide a useful service but normally they require some discretion from the buyer.
How to Protect Yourself Against Forex Broker Scams​
Scams come in all shapes and sizes. From Fineco's perspective, we see UK consumers increasingly targeted by unauthorised brokerage firms, offering the chance to trade in foreign exchange (forex), contracts for difference (CFDs), commodities or, more recently, cryptocurrencies. Investors need to keep their wits about them to avoid these forex or trading scams.
These fake brokers have a number of elements in common: they will promise high returns or guaranteed profits. They may offer a trading service, or a managed service, where they place the trades on the investor's behalf. Clients are encouraged to invest more and more (and may do so successfully at first), at which point the brokerage shuts and disappears with the investor's cash.
Here are some tips for you, how you can protect yourself from forex fraud and broker scams:

1. Compare Price Feeds
Imagine a horse with blinders. This horse's vision is limited to what's in front of him.
If there is a hurdle in front, this horse has no other choice but to exert the additional effort needed to jump over it. This horse is a very sad horse.
If you only use the price feed on your trading platform, you are basically trading like a horse with blinders on.
You have no idea what's going on in the rest of the forex world because you have limited yourself to your broker's price feed.
2. Scammers can use fake adverts and cloned websites with familiar brands
The advent of social media has given criminals a new route to target consumers. They will use brand names to direct consumers to cloned websites that may look similar to those of legitimate financial firms. Social media companies have taken steps to identify those adverts that constitute a 'financial promotion' under the FCA rules and are now obliged to check if the underlying firm is FCA approved. Even so, investors can keep themselves safe by treating any of these promotions with real caution.
3. Record Everything
Keep a comprehensive journal of all of your transactions at all times! Still, always, To make an argument, you'll need witnesses, just as in a trial. You might FEEL robbed, but if you don't have anything to back it up, it'll just be a feeling.
The easiest way to keep records is to take a screenshot of each order you put, each trade you take, and other suspicious broker activity like odd price feeds.
4.
Take your time and do your research to find a real investment manager or good forex signal service or profitable forex robot.
5.
Learn to trade yourself, this takes time and energy and success is not guaranteed but it is the surest way to avoid being scammed.
6. Good Trading Habits
Like a disciplined nun who wears a habit, you too should develop good trading habits. We know that joke doesn't make sense, but it sounded funny so we might as well put it here.
In any case, even with the proper weapons to protect yourself against evil brokers, the most important thing is still to become a better trader.
7. Is the broker offering a cash bonus for opening an account?
When a broker offers an abnormally high cash bonus, is not regulated, and does not show offer details for the bonus, then you are likely dealing with a scam broker. For example, 1000Extra hints at a bonus of $1,000 with their vague promotional offer. If you click around trying to gather more information you are redirected to sign up for an account.
8. Check real review at
Forex Forum
You can join a forex forum for checking broker's real reviews for avoiding scams. Because, inside a forex forum, many forex traders use different different brokers. So, experts know which is good brokers and which are not. So, inside a forex forum, you can get the proper forex brokers reviews. Moreover, inside a forex forum you can learn more about forex trading freely. Experts share their valuable tips and ideas with other traders. So, Forex forum is one of the best ways for knowing the proper reviews about a broker.
For learn more about forex brokers and how to protect yourself from forex scams, you should join this
forex forum
.
You can learn more about forex trading at the
forum.forex
This is the forex forum for beginners and professional currency market traders. Discuss and share forex trading tactics, currency pairs, tips and forex market data. Analyze forex brokers, leverage and fx signals providers.
Thank You


#forexforum #forextradingforum #forexsignalforum #currencytradingtips #forextradingtips #fxforum #Topforexforum #bestforexforum #fxtrading #forumforex #currencytradingforum #currencytradersforum #forextrading #currencytrading #forumdotforex #forexnews #howtomakemoneytradingforex #trading #currencyanalysis #forexsignalproviders #forexnewstoday #forexstrategy #forexindicators
#forexforum #forextradingforum #forexsignalforum #currencytradingtips #forextradingtips #fxforum #Topforexforum #bestforexforum #fxtrading #forumforex #currencytradingforum #currencytradersforum #forextrading #currencytrading #forumdotforex #forexnews #howtomakemoneytradingforex #trading #currencyanalysis #forexsignalproviders #forexnewstoday #forexstrategy #forexindicators