Abstract:The Nigerian Forex traders have got an added advantage to participate in the Forex market in the two dominant trading sessions such as the London and New York sessions. This is because the Nigerian time zone readily aligns with these two time zones. Nigerians can therefore trade the market comfortably from 6:00am in the morning (or even earlier for those willing to join the Asian session) till 10:00pm at night which is when the New York session ends and the market itself at this point closes for the day across the three different time zones. Often, we experience a one hour break before the market reopens again for the Asian session. The next resumption for trading for Nigerians who are willing to sacrifice their night sleep is from 11:00am which marks the beginning of the Asian session.
WIKIFX
By: Damian Okonkwo
The Forex Market is open for trading 24 hours a day, 5 days a week and 20 - 22 days a month. There are however three dominant sessions in the Forex market. We which shall consider below.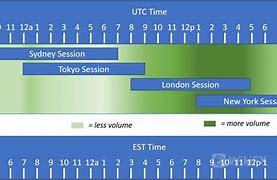 The three dominant trading sessions.
There are basically three dominant trading sessions for trading the Forex Market known as:
A. London Session
B. New York session
C. Tokyo and Sydney (Asian session)
The London Session begins at 7am Nigerian time which is 6:00am EST. The one hour difference is because Nigeria is one hour ahead of time EST time zone. The London session is often seen as the busiest time in the market as it comprises all the European Union countries and most African countries participating in the market at the same time. Thus it could be is said that the greatest number of traders are often present at this point. The Nigerian time equally overlaps with the New York session too.
The next session after the London time is the New York time comprising all the United States, Canada and North America. This session usually begins at 11:00am Nigerian time. During this session.
The greatest trading volumes and market movement is often witnessed within this interval when the London market and New York market overlap. Often occurring from 11:00am to about 6:00pm Nigerian time.
The final session is the Tokyo and Sydney session (ASIAN session) occurring from 11:00am to about 11:00 am Nigerian time. The Asian market is a very volatile moment often for GOLD and Silver as these continent are the greatest dealers on these commodities.
Finally, expert traders consider 10AM EST to be the best time for trading as this is the period when the London market and then New York market interact with the Asian traders just exiting the market at this point. Hence, we often experienced the greatest market movement during this time, offering a very good opportunity for quick profit making