Finance newbies often wonder, what's the difference between decentralized and traditional finance? How do they differ in terms of trading? And does DeFi have a future or is it just a trend? The truth is, modern technology has enabled safer, faster and more effective ways to do things, yet they are rarely understood, leading to lost opportunities. To figure out which is better when it comes to trading, let's look at how financial systems emerged from TradFi to DeFi through history with their pros and cons.
Plato's well-known aphorism,
"Necessity is the mother of invention"
aptly describes that the driving force for the majority of new innovations is a need. In light of the widespread acceptance of technological advances like Blockchain, Web3, Smart Contracts, and Cryptocurrency, it might come as no surprise that decentralized finance (DeFi) is becoming increasingly popular over the years.
On the other hand, traditional finance (TradFi) has a centuries-old business model that remains loyal to its longstanding ways of doing business. While the trading ecosystem may still be traditional, it is undergoing a shift as it becomes more vulnerable to threats while implementing new operational practices is delayed. Although traditional finance has a legacy, other industries continue to innovate and disrupt its old practices. As a result, traditional finance faces numerous challenges that make it difficult to remain competitive and relevant.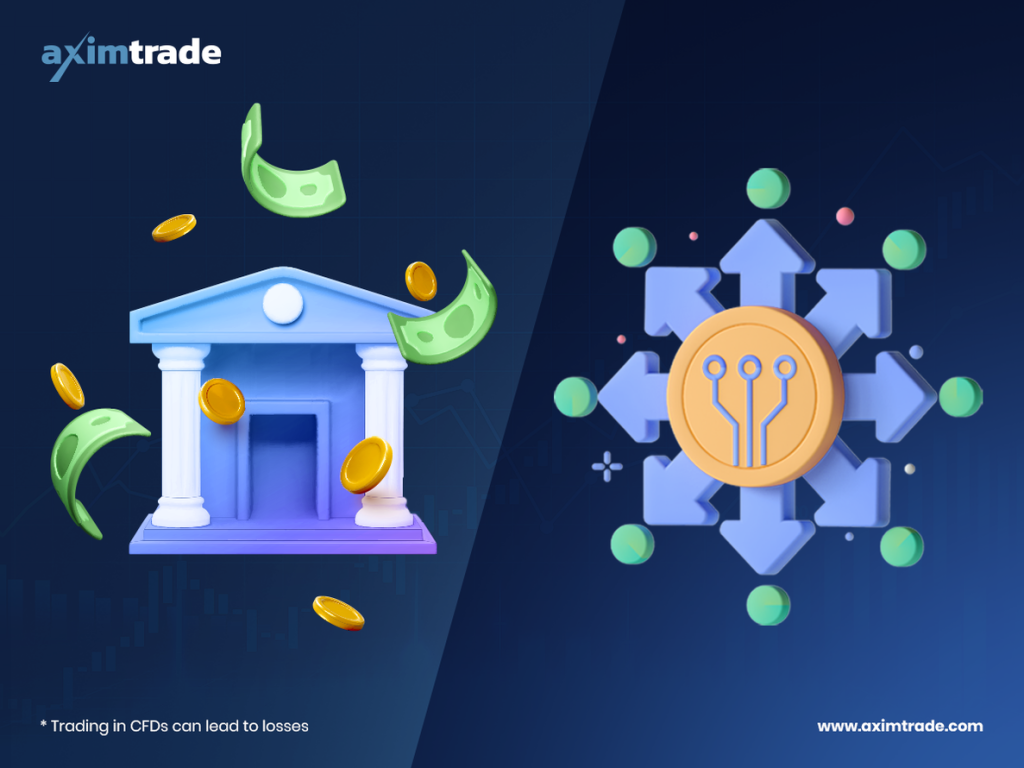 Today, more or less everything is digital ─ including traditionally analogue fields, like finance.
Technological advancements can quickly solve technological disadvantages and operational challenges in an industry prone to complacency. By digitally transforming traditional finance, all stakeholders will have a better experience, and by utilizing technology to streamline communication and expedite procedures, all operations are simplified and the industry is assured that its future is secure.
The purpose of this article is to discuss the pros and cons of the two most common forms of financial infrastructure while also looking at the crossovers between the two. Rather than competing, traditional finance and decentralized finance applications can work together to improve the financial system. Keep reading to find out how!
Trading with Traditional Finance vs Decentralized Finance​
Trading has been taking place on a global scale since the 18th century and has continued to be an excellent earning opportunity to this very day. Over time, especially in today's digital era, with the availability of
online trading
coupled with the increasing number of assets on the financial market, financial trading is increasingly becoming popular with the general public.
While trading in digital assets and in traditional financial markets have a number of similarities, they differ on both fundamental and practical levels, which warrants contrasting assessments of value, risk, and opportunity. Let's compare the trading aspects of traditional finance and decentralized finance one by one.
Trading in Traditional Finance Markets:​
The traditional finance markets consist of various different assets like Forex, stocks, Indices, Energies, Metals (Gold & Silver), Commodities and so on. Among the other financial markets, the foreign exchange market, also known as the FX market, Forex market, or currency market, is very popular. It involves the exchange of national currencies against one another on a global scale. As an example, Euros can be exchanged for US dollars, or British pounds can be exchanged for Japanese yen.
Trading on the financial markets can be carried out in many ways, and it usually depends on what asset class you choose to trade. In order to participate as a trader in traditional financial markets, first, you have to choose your trading asset and
open a trading account
with a broker. Choose a broker that allows you to trade all financial assets on one platform if you want better returns and easier access. AximTrade stands out as the best broker in terms of its reliability and excellent trading conditions, offering Forex, Stocks, Indices, Metals, and Energies, and facilitating in-depth market analysis using various tools accessible through the MT4 platform.
A traditional finance market is an online marketplace where brokers, traders, and dealers trade financial securities and assets by using a broker's platform. Trades are made directly between buyers and sellers. It is important to understand how traditional finance markets work, including their different exchanges and
trade sessions
, to be able to trade successfully. There are several large exchanges, including the New York Stock Exchange and the Chicago Mercantile Exchange. Foreign exchange markets, which trade approximately $5 trillion every day, are the most significant spot trade markets worldwide.
In traditional financial markets, the exchange is responsible for receiving and matching orders and maintaining a fair and orderly market. Instead of processing financial flows, exchanges process information transfers. Dedicated brokerage accounts are used to store funds and assets, with liability shared between the regulated entities: the exchange and a bank. Client funds are always stored in the broker's segregated accounts and are never handled by the exchange.
We've put together a list of
10 Things You Should Know Before You Open A Forex Account
to help you get started with trading more effectively. Check it out!
Trading in Decentralized Finance Markets:​
Trading in the decentralized finance markets is nothing but crypto trading, in which one speculates on future cryptocurrency price movements through a trading account or buys and sells virtual coins for a profit. Though decentralized finance stepped into the world of investment several years ago, the crypto trading market gained its momentum in 2017 among both new and experienced investors alike and is now a leading investment destination with growing investment appeal every day.
Getting started with crypto trading involves signing up for a crypto trading platform, purchasing digital assets with your currency, and trading them for one another. In order to be successful in crypto trading, you should always choose the right platform and make sure you have the right tools for the trade. Read the
advantages of Crypto Trading with AximTrade
for a clear explanation of how the brokerage gives you a competitive edge through its ability to trade over 35+ cryptocurrencies.
Trading in the decentralized finance market can be extremely risky, as recent months have demonstrated. During times of market volatility, the value of coins is subject to sudden dips and increases. The good news is that even with such an unpredictable market, there are trading strategies so simple that even inexperienced investors can make money —
crypto trading
being one of them. The crypto market is all about finding opportunities, even during these times of volatility, when everyone is clueless and chaos reigns supreme.
Is it a good idea to trade with decentralized finance, even during a market crash? Yes! Your success in crypto trading completely depends on your tactics and how clever you are. A well-planned trading strategy and a deep understanding of the crypto markets can make a difference. Check out this article on
Is This The Right Time For Crypto Trading
to make your decisions better.
Original Article:
Trading with Traditional Finance VS Decentralized Finance
Disclaimer:
This post is from Aximdaily and it is considered a marketing publication and does not constitute investment advice or research. Its content represents the general views of our editors and does not consider individual readers personal circumstances, investment experience, or current financial situation.