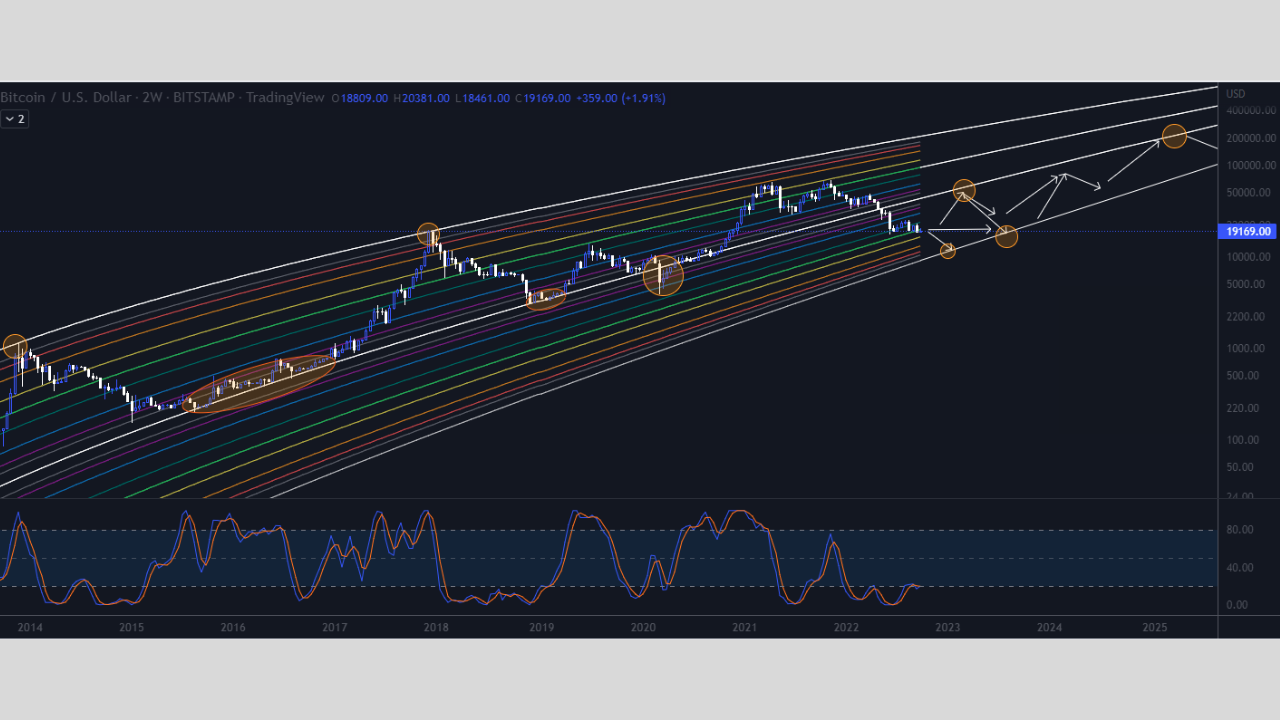 The focus of this graph is not on predicting future peaks, however that topic will be briefly discussed. The goal here is to delve into the Fibonacci-based BTC log regression "Rainbow Dark" signal and its potential transition from the upper to the lower band.
Until this year's meltdown, Bitcoin's price had always stayed within the log's top range. Once before the orange circled covid crash of 2020, it did break through this upper band support. Although price action had first broken through, it has now recovered and remained as support for the subsequent bull run. Given that this is the first time there has been a significant breach of the bottom and that the bull run did not reach the top, it seems that this sequence of events has left us with a couple of hints. Yes, I believe it may be telling us that the new trading range for Bitcoin is the lower portion of the band. Two touches, one from above and one from below, are required to verify this notion.
If you ask me, the only things left to wonder are which line will be tapped first and on what route. Time will tell, but I think the next Bitcoin bull market will peak near the upper boundary of this lower band, and the bear market will begin near its lower boundary. To put it another way, I think the current price level will serve as new ceiling for any future bull market peaks.
By itself, this lower band suggests a possible top of little over $200,000 in the event of a fresh bull market with a peak in March 2025.
My guess is that bitcoin will first move toward the upper half of the band, and then touch the lower portion of the band later next year at around the same price point as currently, marking a double bottom that eventually launches the new bull run. Bitcoin will, without a doubt, shock the world.
The stochastic RSI is a crucial indicator. Indicating the direction of current momentum.
Please do not consider this to be investment advice. Simply a point of view.
Thanks For reading. Leave a comment below.