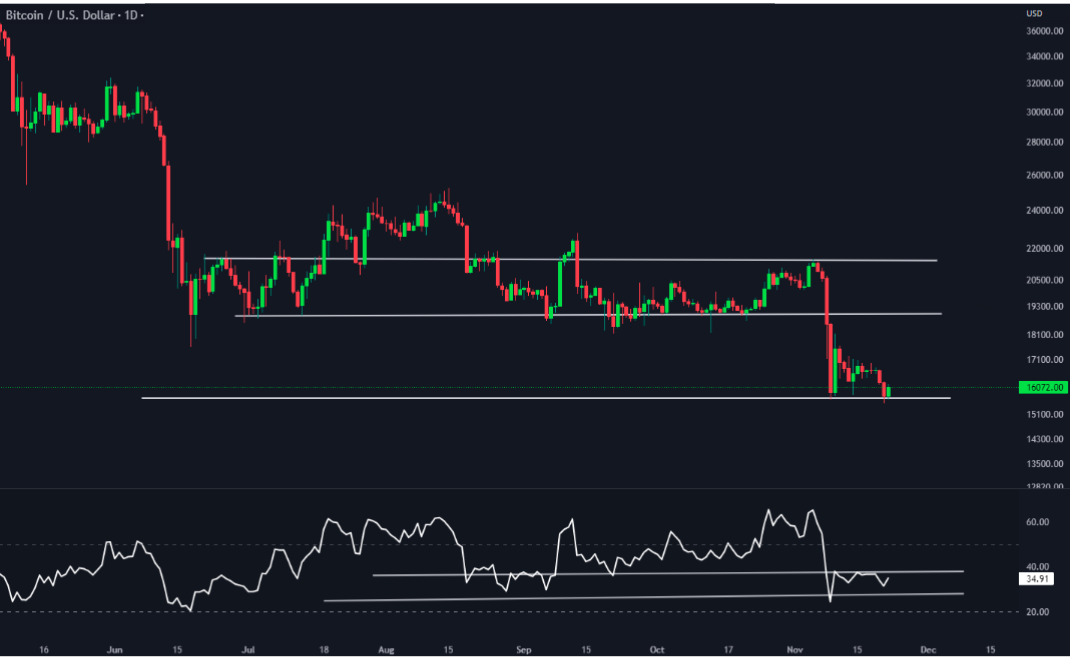 Hello, welcome to this BTC /USDT 1DAY chart update.
I have tried to bring the best possible outcome to this chart.
Show some support, hit the like button, and follow and comment in the comment section. this motivates me to bring this kind of chart analysis on a regular basis.
CHART ANALYSIS:-Bitcoin ( BTC ) continued to trade lower on Tuesday, as crypto markets were nervy ahead of Wednesday's FOMC minutes release.
BTC /USD fell to a low of $15,599.05 in today's session, which comes less than 24 hours after hitting a high of $16,246.61.
The move pushed the world's largest cryptocurrency to its lowest point in two years and came as prices fell below a key support point.
Looking at the chart, BTC moved marginally below a floor of $15,600 on Tuesday, before rebounding higher as the session matured.
As of writing, bitcoin is trading at $15,784.68, with the 14-day relative strength index ( RSI ) tracking at 31.61.
This is slightly above the support of 30.50, which means that there could still be upcoming drops in BTC in the coming days.
This is not a piece of financial advice.
Hit the like button if you like it and share your charts in the comments section.
Thank you!
Last edited: