Last Tuesday, May 31, the leaders of the countries of the European Union agreed on the sixth package of economic sanctions, which included an embargo on the import of two-thirds of Russian "black gold". Against this backdrop, Brent Crude Oil quotes reached new highs around 122.
The new restrictive measures include a ban on the import of energy resources transported by sea, but do not affect supplies to Hungary through the Druzhba pipeline. Officials also said that by the end of the year they would refuse 90% of Russian oil imports, in exchange for which the EU plans to purchase energy carriers in Asia and Arab countries, as well as in the United States, but it will take time to adjust to new logistics. Due to the artificially limited supply on the black gold market and the growing demand for raw materials in Europe, Brent Crude Oil quotes showed a rapid increase and stopped at around 122.00 this week, updating the high of March 24.
Now the trading instrument is correcting in anticipation of the OPEC+ meeting, which will discuss the possibility of adjusting the production of "black gold" against the backdrop of the continuation of a special military operation in Eastern Europe, initiated by the Russian authorities, as well as its consequences for the energy market. Participants are expected to continue to adhere to the current 432K barrels per day production recovery plan, despite the EU authorities' decision.
Meanwhile, Saudi Arabia is ready to increase the production of "black gold" if it suddenly needs to compensate for the falling volumes from the Russian side. In turn, the United States offered Saudi Arabia to increase energy supplies to the EU and exclude Russia from the OPEC+ deal in exchange for unblocking arms supplies, but official Riyadh did not agree to take this step.
Summing up, one can conclude that if the increase in the rate of oil production by OPEC+ countries occurs according to a pre-approved plan, then prices will continue to rise in the future due to increased demand and insufficient supply. However, if a decision is made on an emergency adjustment in order to replace volumes of Russian oil, the instrument may head towards 100 in the long term.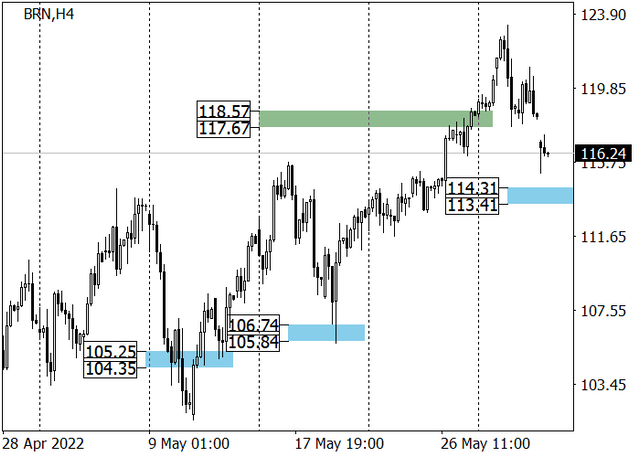 The long-term trend is upward. After updating the March 24 high, the price decreases and approaches the support level of 114.50, and if it is held by the "bulls", the growth will continue with the target at the May high. Otherwise, the correction will continue to the level of 107.15. The medium-term trend is upward. This week the target zone 2 (118.57–117.67) was broken out, and the next target is in the area of 127.57–126.67. Now the price is correcting and approaching the key trend support at 114.31–113.41, after reaching which new purchases can be considered with the first target at the high of the current week.
Resistance levels: 122, 129, 135 | Support levels: 114.5, 107.15, 101.9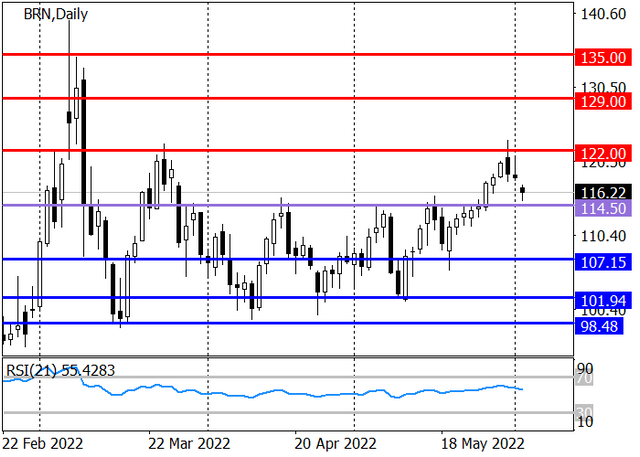 Read more market news