CryptoNews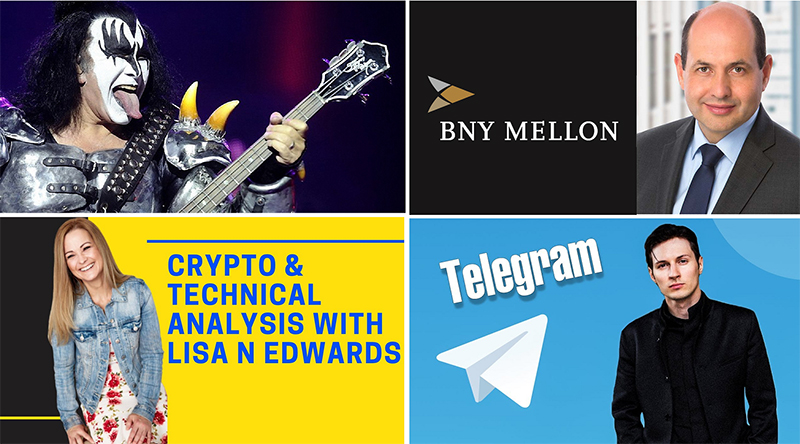 - Kiss bassist Gene Simmons invested a seven-figure sum in bitcoin. According to him, he bought the cryptocurrency several months ago at a time when it was almost twice as cheap as it is now. Simmons did not name the exact amount of the investment but noted that he had already managed to seriously increase his capital.
"Many people wonder if I believe in a further growth in the value of bitcoin. Of course, I do. Otherwise, I would not have spent money on a dubious asset. The future has already arrived, and new tools for earning and storing savings are appearing in our lives," Simmons explained.
- Lisa Edwards, sister of self-proclaimed bitcoin creator Craig Wright, predicted that the first cryptocurrency would rise to $142,000. Based on Elliott Wave Theory, she suggested that digital gold would rise to $90,000 by May 2021, decline to $55,000 by January 2022, and skyrocketing to $142,000 in March 2023. After that, according to Edwards, the cryptocurrency market expects a bearish trend.
"Satoshi Nakamoto did not consider supply and demand. In a closed market with high demand and limited supply, the price can increase in large leaps, leading to significant increases in short periods," she wrote.
- As the CoinDesk publication reports, the income of bitcoin miners over the past week reached a new maximum of $354 million against the background of the movement of the first cryptocurrency to the $50,000 mark. The previous record figure in seven days was $340 million and was recorded in December 2017.
- BNY Mellon, the oldest bank in the United States, announced the start of work with bitcoin and other digital assets through the launch of a new cryptocurrency storage service. According to CNBC, the bank will allow cryptocurrencies to pass through the same financial network that it currently uses for traditional assets like treasuries and stocks.
Roman Regelman, head of digital at BNY Mellon, said the financial institution is proud to be the first global bank to announce plans to provide integrated services for crypto assets. He noted that the bank will be able to start offering these services to clients this year.
- Another major US bank, JPMorgan Chase is ready to support bitcoin trading if clients are interested in it, announced the bank's co-president and chief operating officer Daniel Pinto. "If, over time, an asset class develops that will be used by various managers and investors, we will have to get involved," he told CNBC. "There is no demand yet, but I'm sure it will appear at some point."
It became known that JPMorgan Chase organized a virtual meeting in January with the participation of thousands of traders and sales professionals from different parts of the world, during which it inquired about their interest in trading BTC.
Last week, according to CNBC, another bank, Goldman Sachs, convened a closed forum for employees and clients with the participation of Galaxy Digital CEO Mike Novogratz, where he spoke about bitcoin, Ethereum and other digital assets.
- The owner of the Vietnamese Internet cafe Star Computer has redesigned the business to mine Ethereum. The idea came to the entrepreneur after the number of visitors to the computer club dropped markedly due to restrictions associated with the COVID-19 pandemic. "I am changing the business model: the profit is higher than from the main activity," he announced.
- Bloomberg said that the founder of Telegram Pavel Durov bought $750 worth of bitcoins about four years ago. According to the publication, after the sale of a stake in the social network VKontakte he founded, the entrepreneur left Russia, owning $300 million and 2,000 BTC. At the moment, the cost of his initial investment in the leading cryptocurrency has reached $100 million.
- Another piece of news regarding Telegram. Telecommunications company T-Mobile has become a defendant in the lawsuit. California resident Calvin Cheng has filed a lawsuit in New York City after losing $450,000 as a result of SIM swapping - an account hack through SIM swapping.
According to Cheng, he acquired the cryptocurrency by negotiating via the Telegram messenger and using a crypto exchange operated by Iterative Capital. A few months later, in May 2020, he received a message, also via Telegram, from the phone number of Iterative Capital co-founder Brandon Buchanan. He offered a higher price for 15 bitcoins. Cheng transferred the cryptocurrency to the specified wallet, but the money for bitcoins never arrived. A few days later, Buchanan notified customers that his accounts had been hacked using SIM swapping.
The co-founder of Iterative Capital used the services of T-Mobile, and Cheng believes that the company violated obligations to protect the personal and financial information of customers, and, in addition, was negligent in hiring and training support staff, and therefore it is obliged to reimburse him for the losses incurred.
- UK police, with the support of Europol, have arrested eight suspects in SIM card fraud. According to law enforcement officers, fraudsters have stolen money and crypto assets worth $100 million. The attacks were carried out throughout 2020 from the UK, and the victims of the scammers living in the United States were "famous influencers, sports stars, musicians and their families."
Fraudsters uploaded identification information from SIM cards of victims' phones to their cards, thus gaining control over their crypto wallets and bank accounts.
- It became known that the Mayor of Miami (USA) Francis Suarez has already taken a number of steps to legalize cryptocurrency as an investment and payment instrument. "We have made bitcoin an available currency for potential investors. In addition, employees can receive salaries in cryptocurrency, which is a huge step forward," he wrote on Twitter.
New York Mayor and former presidential candidate Andrew Young and Reno, Nevada Mayor Hillary Shiv supported Suarez's decision. And Andrew Young said that he would try to make the financial centre of the world become a centre for cryptocurrencies.
According to a number of experts, such steps and statements by US politicians and officials have a positive impact on the price of bitcoin and other cryptocurrencies.
#eurusd #gbpusd #usdjpy #btcusd #ethusd #ltcusd #xrpusd #forex #forex_example #signals #forex #cryptocurrencies #bitcoin #stock_market
https://nordfx.com/