During the Asian session, the NZDUSD pair is consolidating near 0.6470 and local lows of May 27. Yesterday, the instrument attempted corrective growth but failed to consolidate on new highs and returned to the red zone closer to the close of the daily session.
On Wednesday, the asset was supported by positive data from China and Australia, where the slowdown in economic growth was slightly milder than analysts predicted: an increase in the Caixin Manufacturing PMI for May was recorded from 46 to 48.1 points, while the forecast for growth was only up to 47 points. Manufacturing activity will likely grow at a more robust pace going forward as factories in Shanghai resume operations from June 1 after a long lockdown.
In turn, pressure on the instrument yesterday was exerted by cautiously optimistic data from the US Manufacturing PMI, and the monthly economic review from the US Federal Reserve published closer to the close of the session. The regulator noted a moderate economic recovery in almost all twelve districts. However, some of them have slowed growth as economic conditions continue to deteriorate. Retail is facing rising food and energy prices, and housing markets react to rising interest rates.
New Zealand Prime Minister Jacinda Ardern intends to discuss with US President Joe Biden the issue of response to the conclusion of agreements in the field of trade, politics, and security by the Chinese authorities with representatives of the island states of the Indo-Pacific region. Some experts attribute the intensification of China's activities in the region to the possible consequences of the military conflict in Ukraine. Still, many believe that in this way, the PRC authorities are trying to dominate the region and then use these territories to deploy military bases, which creates significant concern for the New Zealand authorities and Australia.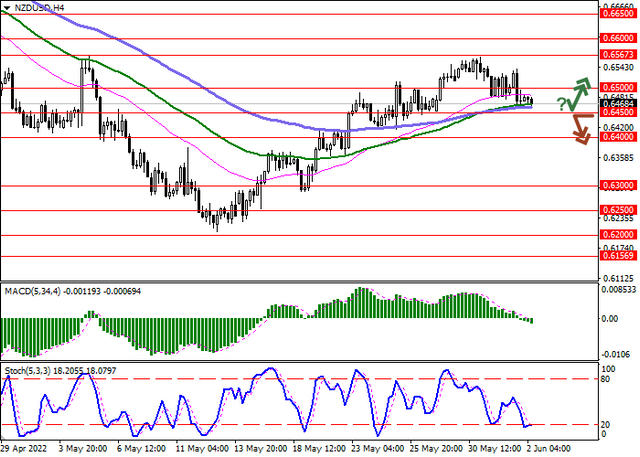 On the daily chart, Bollinger bands are growing moderately: the price range is narrowing rather quickly, reacting to the appearance of a predominantly "bearish" dynamics in the market. The MACD indicator is falling, forming a new sell signal (the histogram is trying to consolidate below the signal line). Stochastic shows a much more confident decline, but at the moment, it is rapidly approaching its lows, indicating the risks of the New Zealand dollar being oversold in the nearest time intervals.
Resistance levels: 0.65, 0.6567, 0.66, 0.665 | Support levels: 0.645, 0.64, 0.63, 0.625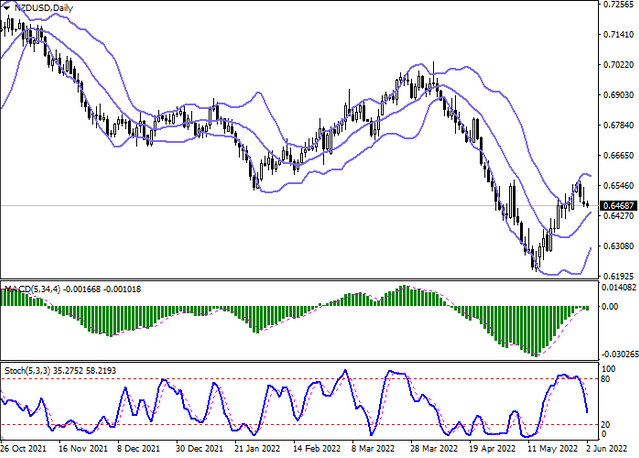 ​