Jan-12, 2022, Gold technical analysis and forecast, By Forex Forum.​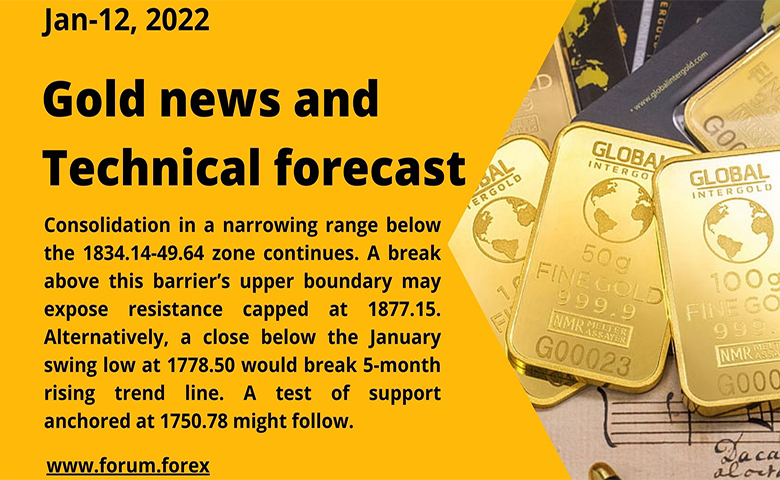 ​
In wake of a broadly hotter than expected US Consumer Price Inflation (CPI) report, spot gold (XAU/USD) prices continue to trade sideways in the $1820 area where it trades broadly flat on the day. In a somewhat unintuitive reaction to headline CPI rising in line with expectations to 7.0% YoY, its highest levels since June 1982, and Core CPI rising above expectations to 5.5%, the US dollar has come under pressure. The data, which comes on the heels of last Friday's jobs report which showed the unemployment rate falling under 4.0%, strongly supports the case for Fed tightening this year, even if much of the recent pressures come from used car prices.
But market participants appear to be taking the view that positioning in the US dollar has in recent weeks become too bullish, hence the downside in both. For reference, the DXY recently fell under the 95.50 mark to hit its lowest level since mid-November. The dollar's case isn't being helped by the fact that, in wake of the data, 10-year TIPS yields are going sideways in the -0.85% area, having dropped back about 10bps since Fed Chair Jerome Powell's not as hawkish as feared comments on Tuesday.
Source:
fxstreet.com
GOLD TECHNICAL ANALYSIS – COILING UP FOR A BREAKOUT?​
Consolidation in a narrowing range below the 1834.14-49.64 zone continues. A break above this barrier's upper boundary may expose resistance capped at 1877.15. Alternatively, a close below the January swing low at 1778.50 would break 5-month rising trend line. A test of support anchored at 1750.78 might follow.
On the other hand, US funds' selling continued in December, with outflows of 22 tonnes, which outweighed inflows into Europe and Asia. Other regions too saw negative flows for the first time since August, losing $68 million or 1.2 tonnes.
The WGC report says gold prices faced headwinds from higher bond yields, especially during the first quarter, and a stronger dollar in the second half of 2021, relative to other developed market currencies. On the other hand, gold also got support from rising inflation and market volatility linked to continued COVID variants and varying lockdown measures.
What's the prediction for gold in 2022?​
More or less the same external factors are present in 2022. WGC feels that persistently high inflation is still likely due to COVID-induced monetary and fiscal policies, supply-chain disruptions, and a tight labour market. Combine these with high equity market valuations, potential new COVID variants and newer ones emerging, a growing appetite for less liquid assets, and we could see more frequent market pullbacks and increased demand for gold as a portfolio hedge.
A volatile cryptocurrency market can also help bring back some funds that moved away from gold.
Gold may also find continued support from consumer demand and central bank purchases, both of which continue to be important long-term drivers of performance.
For getting the latest commodity analysis and forecast join this
forex forum
.
You can learn more about forex trading at
forum.forex
This is the forex forum for beginners and professional currency market traders. Discuss and share forex trading tactics, currency pairs, tips and forex market data. Analyze forex brokers, leverage and fx signals providers.
Thank you