Regulated Forex Brokers VS Unregulated Forex Brokers Explain, By Forex Forum.​
​
A forex broker works as an intermediary between you and the interbank system. If you don't know what the interbank is, it's a term that refers to networks of banks that trade with each other.
Typically a forex broker will offer you a price from the banks where they have lines of credit and access to forex liquidity. Many forex brokers use multiple banks for pricing, and they'll offer you the best one available.
The forex broker's role​
A broker is a place where buyers and sellers go to buy and sell instruments, such as currencies.
The forex broker operates as a middleman between you and the market. In other words, in order to find a buyer or a seller of currencies, you can go to a broker and they match you up with either a respective seller or a respective buyer.
However, instead of just being the middleman between you and another buyer or seller, they are also the middlemen between you and what is called a "liquidity provider".
how forex brokers work? How they make money?
To answer these questions, you need to understand the different types of forex brokers and their various business models. Unlike humans, not all forex brokers are created equal. Some are much more competitive than others and some, are just outright scammers. Sadly it's not always easy to tell the difference between the two, some of the oldest and most famous names in forex are notorious for shady and underhanded tactics.
Market Makers and Spreads
All forex brokers will tell you they make their money off the spread (the difference between the buy and sell price), however lots of brokers actually only derive a small portion of their income from spreads. How do they make money then you ask? Simple. By trading against their clients.
These brokers are known in the industry as market makers. The problem is, the vast majority of forex brokers actually operate in this manner. When you first start out trading you assume you are buying and selling from other participants in the market: if you make money, someone else is losing money and vice versa. This is true to a point, but often this 'someone' is a lot closer than you think … it's your broker!
Forex Brokers by Regulation​
Because the Forex market is a decentralized market without a regulated exchange Forex Brokers need to be regulated by governmental supervisory bodies. As such, Forex brokers are required, before they start operating, to apply and register with the country's regulatory authority that they run their operations.
Dealing with a regulated Forex Broker means that you expect a certain level of quality control as there are regular audits, reviews and evaluations that are forced to be maintained by the Forex Brokers. You can also argue that if the regulation was set up before the Forex market was evolved there wouldn't be so many clients or investors losing their money on Ponzi schemes and misrepresentations.
From the Forex regulators point of view they normally operate on their own jurisdictions but sometimes they can cooperate together to pursue fraudulent activities. A good example of such cooperation is the European Union whereas a European licensed Forex Broker basically is licensed or regulated by all member states of the EU.
Unregulated Forex Brokers
While it is true that dealing with regulated Forex brokers might be a lot more safe and beneficial, there are some unregulated brokers available on the market that might be worth checking out. Considering the fact that the number of such Forex brokers is high, it means that there is a demand for them from the customers, which can be caused by few different reasons that we will discuss later in this article.
What is an Unregulated
Forex Broker
?

A Basic Definition
An unregulated forex broker is simply an online forex & CFD brokerage that does not possess any type of financial license. This means that an unregulated forex broker is not legally authorised to offer forex & CFD trading services in any part of the world.
Just because a forex broker is unregulated doesn't imply that the company has no physical footprint in some part of the world. In fact, it's quite common to find that many unlicensed forex brokers are registered in offshore regions like St. Vincent & The Grenadines, or SVG for short. St. Vincent isn't the only offshore region where unlicensed forex brokers register their businesses. Marshall Islands, St. Kitts and Nevis are some additional offshore jurisdictions where many forex brokers register their businesses.
How to Check If a Forex Broker Has a License?​
There are several ways to determine whether a forex broker is licensed and trustworthy. Licensed forex brokers usually carry a seal of approval from a regulatory agency at the bottom of their sites and display the ID numbers of their licenses. But do not trust the information on the company's website blindly.
Every regulatory agency has an official website and a database, allowing investors to check whether the forex broker's license is valid. Traders are also advised to check if the broker's contact details listed on the website match with the ones listed on the regulatory agency's website.
Furthermore, select a forex broker with a physical office in the country of your residence. Note that some forex brokers benefit from the regulatory differences between the markets to bypass the unfavourable regulations. This practice is also known as regulatory arbitrage.
For example, a forex broker may have a license from a strict regulatory agency and establish a separate company under the same brand licensed by an offshore regulatory agency. Therefore, make sure to set up an account under the jurisdiction you want.
For getting latest forex broker selection tips and forex news strategies, join this
forex trading forum
.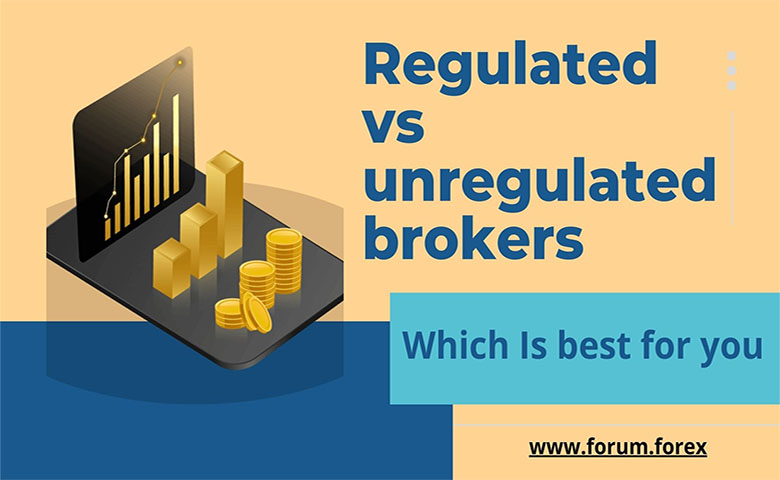 Regulated vs unregulated brokers
Why is it so important for an online broker to be financially regulated by one or more regulatory bodies? Because we are talking about the safety of your capital, the money you invest and the promise of the broker to use your funds solely for the right purpose. When a broker is unregulated, this means that there is no regulatory organization or group of persons monitoring them, in other words, they can take your money and disappear. This is the reason why you see lists of online brokers described as scams or frauds. The first thing you need to do while checking out online brokers is to verify whether they are regulated or not. For example, forum.forex is a trustworthy online forex trading forum for best brokers recommendation from experts, an excellent choice for both novice and experienced traders. Their transparency and the amount of legal documentation they put at your disposal is a sign of professionalism and a feature that any legit online broker should have.
Why Would Anyone Trade with an Unregulated Forex Broker? Are Unregulated Brokers Scams?
The answer is that the regulation of forex activity has increased across the globe in recent years. In Europe, Asia and Australia, leverage on forex & CFDs has been reduced by local regulatory bodies making forex trading less attractive for those investors who have grown accustomed to higher leverage.
As such, some traders seeking leverage greater than 30:1 accept the risk of trading with an unregulated forex broker in exchange for greater account flexibility. Additionally, unregulated brokers often are able to offer deposit / "no deposit" bonuses along with other promotions and giveaways that are now illegal in many parts of the world. Consider some of these reasons when you are asking yourself why someone would trade with an unregulated forex broker.
Conclusion
In the end, the rate of success stands only in your hands and the decisions you make belong only to you. There will always be good and bad in this world and the forex trading market is no exception. Knowledge is power and once you will be able to identify your needs and choose the right online forex broker for you, success and profit will eventually come.
You can learn more about forex trading and forex brokers recommendation at
forum.forex
This is the forex forum for beginners and professional currency market traders. Discuss and share forex trading tactics, currency pairs, tips and forex market data. Analyze forex brokers, leverage and signals providers.
Thank you
For learn more about regulated and unregulated forex brokers watch our videos.
Last edited by a moderator: