Well-known member
Staff member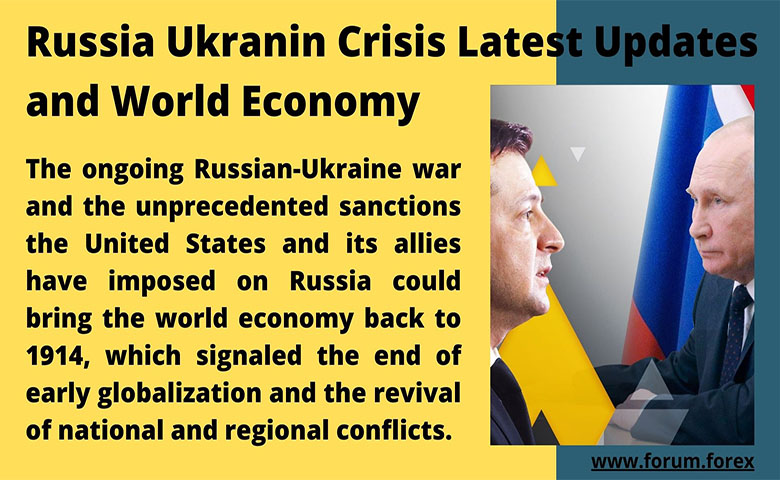 April-16, 2022, World Economical updates and financial analysis, By Forex Forum.​
R
ussia could begin the next phase of its military campaign in Ukraine as soon as this weekend or early next week, according to two senior U.S. defense officials, and Ukraine is rapidly running through artillery rounds.
The officials, whose briefing was given under the condition of anonymity, said that the U.S. is working to convince allies to send more artillery and ammunition to Ukraine so it doesn't run out when the offensive ramps up. A U.S. assessment said this could happen in the coming days, they added.
It came after explosions rocked the outskirts of Ukraine's capital, Kyiv, early Saturday. One person was killed and several people were injured in the strike on the Darnytskyi district, Vitali Klitschko, mayor of Kyiv, told Ukrainian television. NBC News has not been able to verify this claim.
The ongoing Russian-Ukraine war and the unprecedented sanctions the United States and its allies have imposed on Russia could bring the world economy back to 1914, which signaled the end of early globalization and the revival of national and regional conflicts.
At the turn of the 20th century, capitalism was on track to conquer the global economy, creating a global market without borders, a trade regime where commodities and resources could flow freely within and across borders. But unfortunately for the world community, it didn't happen.
By the beginning of the second decade, this trend of early globalization stalled and, in some cases, forestalled by the rise of nationalism and trade protectionism, not to mention the destruction of the two World Wars. For instance, increased trade protectionism limited the flow of resources and commodities across national borders. Before 2014, France and Germany had already raised trade barriers, which made imports prohibitively expensive.
That's a stark warning for world leaders. They should take it seriously if they don't want to repeat what followed after the breakdown in global cooperation before 1914.
Elsewhere, Wall Street closed lower on Thursday at the end of a holiday-shortened week as bond yields resumed their uphill climb, and investors contended with mixed earnings and economic data.
All three major US stock indices posted weekly losses ahead of the Good Friday holiday.
Rising 10-year US Treasury yields pressured growth stocks, dragging the S&P 500 and the NASDAQ Composite deeply into negative territory, while the Dow Jones Industrial Average posted a more modest loss.
"The higher yields pressure higher growth stocks as their net present value ... takes a hit when yields go higher," Detrick said.
A quartet of large US banks shifted the first quarter reporting season into overdrive, with Goldman Sachs Group Inc, Citigroup Inc, Morgan Stanley and Wells Fargo & Co all posting results.
While all four beat Wall Street estimates, they also reported steep profit declines. Their share price reaction was mixed, and were last moving in the range of up 1.6 percent (Citigroup) to down by 4.5 percent (Wells Fargo). The broader S&P 500 Finance index fell 1 percent.
You should join this
forex trading forum
for getting latest
forex signals
, currency trading analysis and world economical updates.
On the other hand, The mounting cost of China's zero-Covid policy threatens to derail Beijing's ambitious GDP target, analysts say, as supply chains snarl, ports face delays and Shanghai remains mired in lockdown.​
Growth in the world's second-largest economy was already slowing in the latter half of last year with a property market slump and regulatory crackdowns, leading policymakers to set their lowest annual GDP target in decades for 2022.
But analysts told AFP the figure of 5.5 per cent would be tough to achieve with stay-at-home orders halting production and stunting consumer spending in key cities.
Experts from 12 financial institutions polled by AFP forecast GDP growth of 5.0 per cent for the full year.
They expect a figure of 4.3 per cent for the first quarter, just above the 4.0 per cent recorded in the three months prior.
Official first-quarter data will be published Monday.
Elsewhere, As federal officials weigh efforts to fight the climate crisis against pressure to bring down high gasoline prices, the interior department is moving forward with the first onshore sales of public oil and natural gas drilling leases under Joe Biden.​
The move also calls for a sharp increase in royalty rates for companies, ostensibly to limit global emissions driving the climate crisis, though economists say the effect will be relatively small.
The royalty rate for new leases will increase to 18.75% from 12.5%. That's a 50% jump and marks the first increase to royalties for the federal government since they were imposed in the 1920s.
Biden suspended new leasing just a week after taking office in January 2021. A federal judge in Louisiana ordered the sales to resume, saying interior officials had offered no "rational explanation" for canceling them.
You can learn more about world economical news and financial updates at
forum.forex
Thank You
Last edited by a moderator: