EURJPY today's price is 147.442 based on MT4 terminal FXOpen, yesterday the price formed a bullish candle
In the daily timeframe, we can see EURJPY move in the trading range swing-high of 148.568 and swing-low near 146.200. Now EURJPY still moves between the upper and middle band line.
Yesterday EURJPY tried to pull back but still landed on the middle body previous candle. Here we can see the Bollinger band draws ascending line and start to flat indicating there is decreasing volatility may occur. Overall EURJPY still uptrend if we analyze based on MA 50.Another indicator the RSI shows a level of 60 indicating the price is above the uptrend zone level.
Go to the H1 timeframe, the EURJPY price now moves near MA 50 and the middle band line, here the Bollinger band line shows an uptrend market meanwhile MA 50 shows a downtrend market. The Bollinger band starts to narrow signaling decreasing volatility, meanwhile, the RSI level shows 50 indicating a neutral zone level.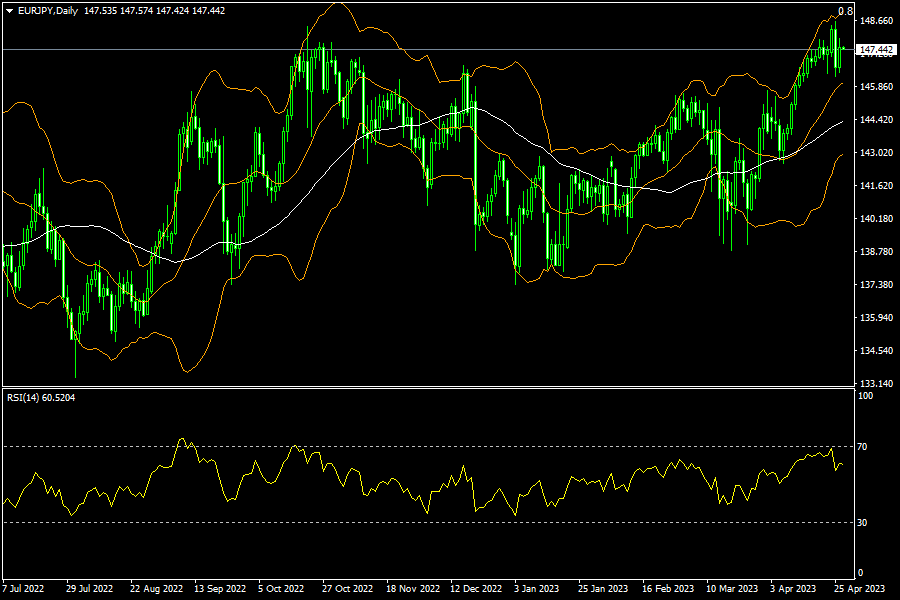 Disclaimer: CFDs are complex instruments and come with a high risk of losing your money.