The New Zealand dollar continues to fall against the US currency after the release of poor macroeconomic data, currently trading around the level of 0.6345.
Thus, according to the publication of Statistics New Zealand, annual wage inflation for March, measured by the labor cost index, increased to 3.0% compared to 2.6% a month earlier and reached its high in the last 13 years. Statistics also recorded an increase in the cost of labor for enterprises, which ultimately leads to an increase in prices for manufactured products, contributing, in turn, to a slowdown in economic recovery. The increase in consumer prices on an annualized basis has already exceeded wage inflation, amounting to 6.9% for March against 3.0% for April and reflecting the declining ability to pay. Also, experts predict a weakening of the national currency due to a negative impact on the economy if demand in China decreases due to the quarantine lockdowns caused by a new wave of COVID-19. From May 5, Beijing residents must provide a negative test for coronavirus in public transport, and from May 1, the same rule applies in all public places.
The US currency continues to trade above 103.000 in the USD Index, and late last week, it received significant support after the release of data on US non-farm payrolls. Despite preliminary estimates by analysts who assumed a decrease in jobs by 391K from 424K a week earlier, the figure remained unchanged, which is a positive factor for the dollar dynamics. Meanwhile, manufacturing jobs rose by 55K from 43K, and private non-farm payrolls stood at 406K against a forecast of 385K. The unemployment rate remained flat at 3.6%, instead of an expected decline to 3 5%, while the average hourly wage slowed growth from 0.5% to 0.3%, allowing investors to hope to reduce inflation. At the moment, market participants are trying to assess how the US economy will be affected by the current tightening of monetary policy by the US Federal Reserve: will it withstand pressure or still go into recession.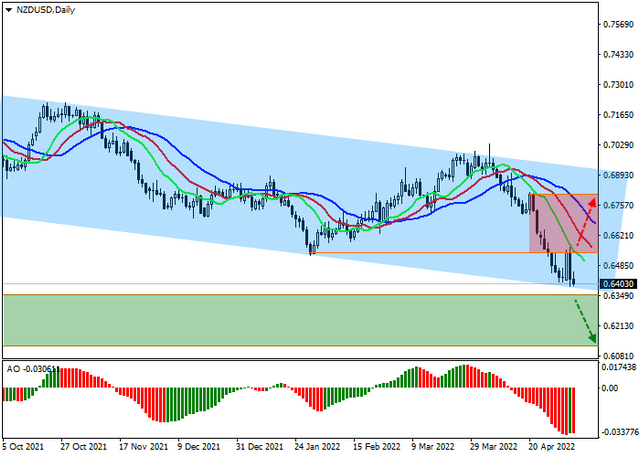 The instrument's quotes are traded within the global downward channel, near the support line. Technical indicators keep a stable sell signal: fast EMAs on the Alligator indicator are below the signal line, and the AO oscillator histogram trades deep in the sell zone.
Support levels: 0.635, 0.61 | Resistance levels: 0.654, 0.68​