GBPUSD Analysis From Daily to 4-Hour Charts
Upon a detailed examination of the GBPUSD daily chart, it's evident that the trend has shifted sideways following the pair's break from the upward channel. The resistance zone is currently situated at 1.26, a critical level that the market must surpass to maintain the downward trend initiated on July 14th.

Taking a closer look at the 4-hour timeframe, we observe that GBPUSD has managed to close above the 1.2773 pivot and exit the downward channel. This development has led to an increase in bearish pressure, causing the currency pair to test the previously broken resistance, which now serves as a minor support. The primary resistance is firmly established at 1.2785. As long as this level remains intact, we can consider the downtrend to be valid. Consequently, we can anticipate the market would target the 1.26 support and potentially attempting to breach this level.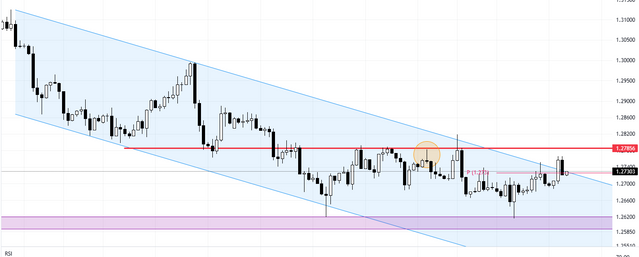 ​