Despite the fact that the US Fed has moved to a decisive tightening of monetary policy and yesterday raised the interest rate immediately by 50 basis points to 1.00%, commodities reacted to this with an increase in quotations. Most likely, traders put the regulator's decision in the prices of trading instruments long before the official announcement. Since the analysts' forecast on the adjustment of the rate value was justified, the USD began a downward correction.
An additional factor that prevented the exchange rate of the XAG/USD pair from continuing the April decline is the restoration of production processes in China. While cities such as Shanghai and Beijing continue to adhere to the principles of a dynamic zero tolerance policy for COVID-19, regardless of the economic costs, Hong Kong announced the easing of anti-COVID measures from May 5. On Monday, the number of new cases of coronavirus infection in the metropolis fell below 300 for the first time in almost three months — to 283. Thus, from May 19, cafes, nightclubs and some other establishments that have been closed since the beginning of the year, when the fifth wave of the epidemic covered the country, will resume work. Against this background, we can count on the fact that other large cities will gradually open up, and this, in turn, will support the demand for precious metals.
The long-term trend remains upward. Last Monday, the bidders tested a strong support level of 22.20, which was held, after which the price of the XAG/USD pair rose to the resistance level of 23.25. If this level is broken out, the upward trend will continue with a target at 24.25.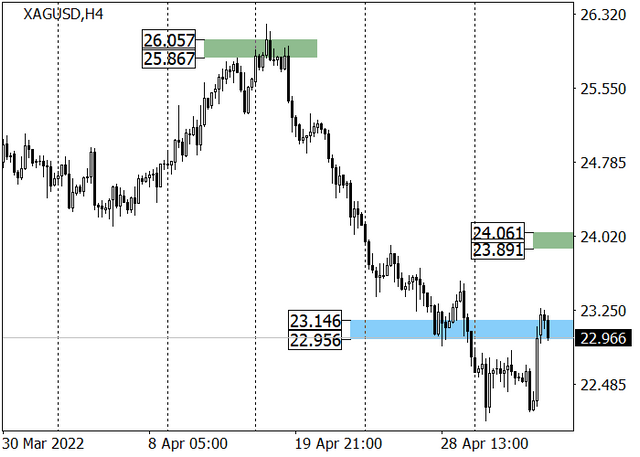 The mid-term trend is downward. As part of the decline last week, the quotes reached the target zone 2 (23.14–22.95). This week, the "bears" tried to break it, but the price returned to the area of 23.14–22.95. In case of consolidation above the range, the upward correction will continue with a target at the trend boundary of 24.06–23.89.
Resistance levels: 23.25, 24.25, 26.1 | Support levels: 22.20, 21.45