​
Silver is trying to recover its positions​
Silver prices are moderately declining during the morning session, again testing 22 for a breakdown. The day before, the instrument made another attempt to grow, reacting to a corrective decline in the yield of US Treasury bonds, which retreated from their previous highs at 3.038% to 2.979%.
At the same time, trading participants are in no hurry to open new trading positions for the instrument, preferring to wait for the decisions of major global financial regulators on monetary policy issues. In particular, a meeting of the European Central Bank (ECB) will be held this week, at which, as expected, the regulator may announce the start of a quantitative tightening program, and next week the key issues will be discussed by the US Federal Reserve and the Bank of England, from which the market expects a "hawkish" rhetoric. In turn, the Bank of Japan, judging by the recent comments of its Governor Haruhiko Kuroda, will maintain a soft position.
Moderate demand for silver is also supported by the gradual recovery of industrial activity in China. However, the situation is ambiguous here, as growth in Asia may be offset by a noticeable drop in industrial activity in Europe, where supply chain disruption, high inflation and rising energy prices are causing many factories to stop working. Disruptions are especially noticeable in high-tech areas, where the use of silver as a raw material has always occupied a fairly high percentage.
Although the number of positions in gold for the last week began to gradually increase, the statistics for silver remains at the levels of the previous week. According to the latest report from the US Commodity Futures Trading Commission (CFTC), the advantage in open positions remains in favor of sellers (37.877K positions), while buyers have only 7.797K open contracts. In addition, last week, buyers liquidated 0.926K positions, while sellers, on the contrary increased their number by 0.997K.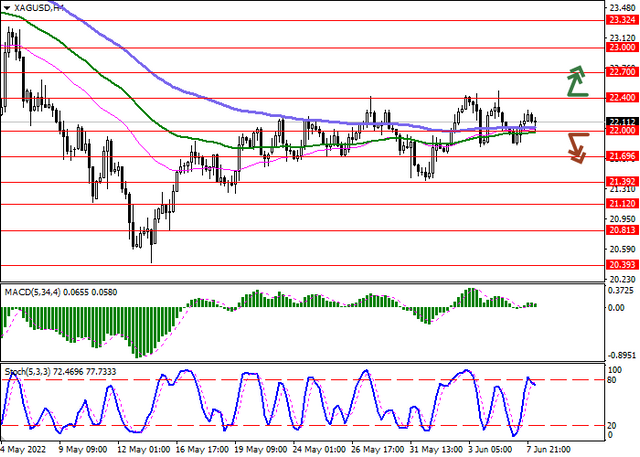 On the D1 chart, Bollinger Bands are gradually reversing horizontally. The price range is slightly narrowed from below, being spacious enough for the current activity level in the market. MACD is growing preserving a weak buy signal (located above the signal line). Stochastic, having not reached its boundary level of "80", reversed into a horizontal plane, reacting to the emergence of "bearish" trend during the Asian session.
Resistance levels: 22.40, 22.7, 23, 23.32 | Support levels: 22, 21.69, 21.39, 21.12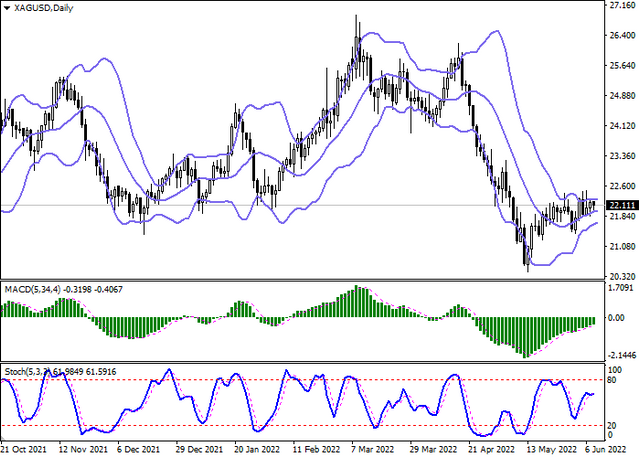 ​
---