XAGUSD - Global demand for silver is under threat again
The key negative factor that influenced the dynamics of the asset was the statistical data from China, as the price of the precious metal correlates with demand from the industry. Thus, according to the July statistics, the indicator fell to 3.8% instead of 4.6% expected by analysts, which led to a decrease in annual growth rates to 3.5%, while retail sales adjusted to 2.7% from 3.1 % a month earlier. Thus, the consequences of the recent coronavirus outbreak in China are still reflected in the dynamics, which is a negative signal for silver.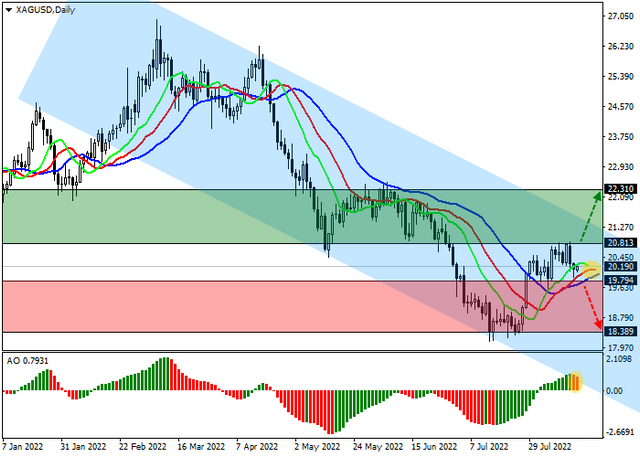 Investor demand for the metal increased over the past week: according to the US Commodity Futures Trading Commission (CFTC), net speculative positions increased to 2.9K contracts from 1.0K contracts a week earlier. It should be noted that this indicator reflects only the total demand for aggregate positions, but if you pay attention to the balance of short and long deals, last week was left for sellers, who increased the number of contracts by 2,472K, while buyers showed a decrease by 160 contracts. Globally, the "bearish" position also prevails and amounts to 30.211K against 7.398K for the "bulls."
The trading instrument continues its upward correction and is approaching the resistance line of the global downward channel.
Resistance levels
: 20.81, 22.31 |
Support levels
: 19.80, 18.40​
---
Visit solidecn.com
Trust Pilot Score 4.9