Chart of the Day - Gold
Fitch downgrading US credit rating from AAA to AA+ is the big news in the markets today. However, the market's reaction has been fairly muted given how significant this news can be. It should be noted that Fitch is the second major ratings agency to downgrade US credit from top-tier rating - S&P did so back in 2011 and has not upgraded it back since. Should the third major ratings agency - Moody's - follow suit and also downgrade US credit from AAA grade, this could have serious implications on US bonds. Some funds are obliged to hold only AAA grade bonds and once neither of three major agencies has such a rating on US credit, those funds may be obliged to sell their Treasury holdings, potentially triggering a slump in the TNOTE market.
However, the rationale behind Fitch downgrade is disputed. Fitch said that repeating debt ceiling disagreements over the past 20 years, last-minute solutions to debt ceiling problems, rising general government deficit as well as issues with US governance are the reasons behind the move. US officials rejected the rationale behind the decision saying that downgrade from Fitch is baseless and bizarre.
Announcement from Fitch yesterday after close of the Wall Street session triggered some volatile market moves. US equity futures launched overnight trading with an around 0.4% bearish price gap. There were also some notable safe haven flows into USD, JPY and gold. However, a bulk of those moves have been reversed already.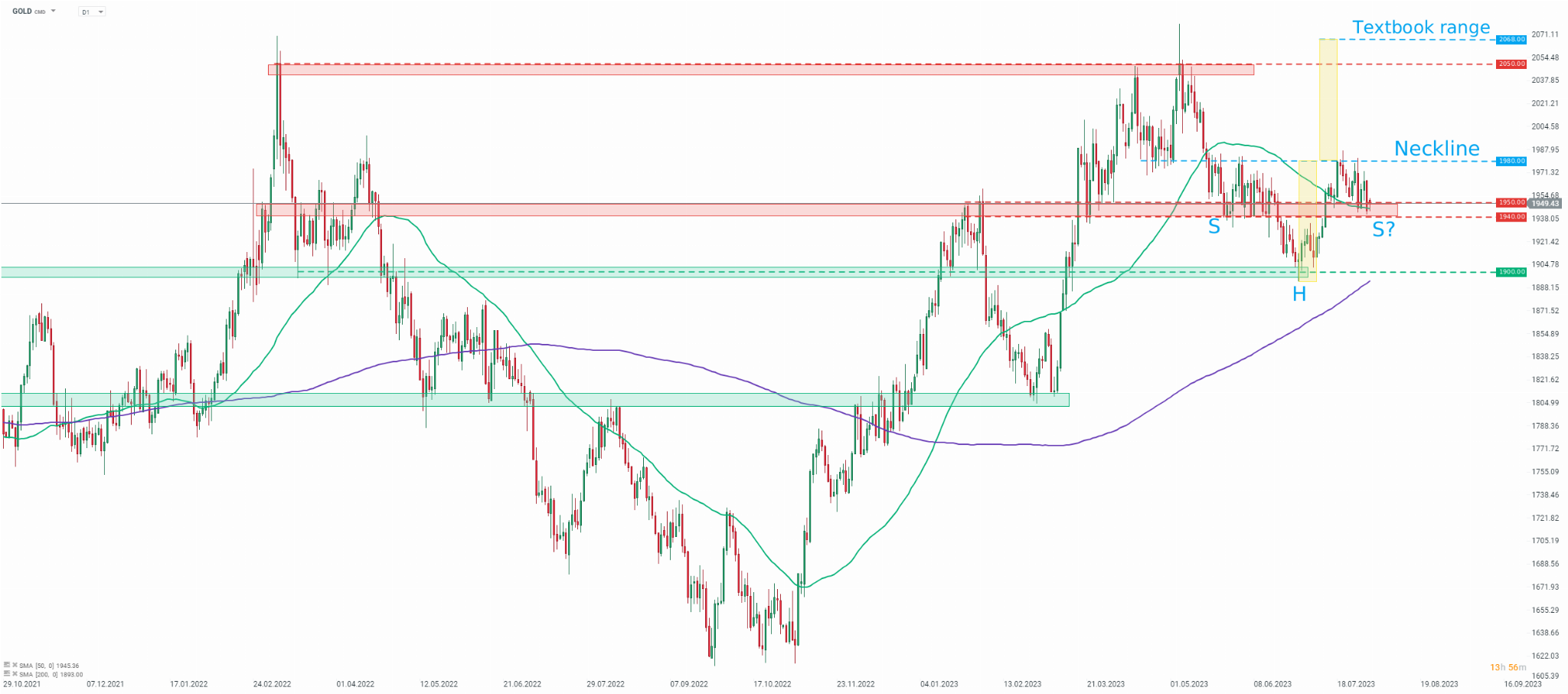 Taking a look at GOLD chart at D1 interval, we can see that a potential major reversal pattern is building up. GOLD pulled back to the $1,940-1,950 price zone, where previous price reactions as well as the 50-session moving average (green line) can be found, but bearish momentum began to slow. Should we see a rebound off this area, the right should of a potential inverse head and shoulder pattern would surface. In such a scenario, neckline of the pattern at $1,980 will be on watch as a break above could trigger an almost $90 jump, which would push GOLD close to all-time highs.​