Last week, the BTCUSD pair had ambiguous dynamics.
First, the price fell to the 22200 area due to fears of a sharp increase in interest rates and the "hawkish" rhetoric from US Federal Reserve officials, as inflation in the country reached a record level of 9.1%. The regulator's decision was restrained, the interest rate was raised only by 75 basis points, and the head of the department, Jerome Powell, acknowledged the possibility of a further slowdown in its growth, which provoked a positive trend in "digital gold." The following data on the US gross domestic product (GDP) decline in the second quarter by 0.9%, which means the beginning of a technical recession in the US economy, contributed to an even greater decline in the dollar and the strengthening of alternative assets. Investors have again turned to cryptocurrencies as shelter assets, fearing worsening economic problems, which has caused enthusiasm among members of the digital community. Thus, the CEO of the Binance exchange, Changpeng Zhao, said in an interview with CNBC that the current increase in inflation, along with the decline in the world's leading economies, could lead to further popularization of digital assets. The businessman also considers holding the important mark of 20000 by the price as a positive moment, from which the beginning of a new growth cycle is possible.
However, the current situation does not yet mean a reversal of the long-term downtrend since the US Federal Reserve, despite the likely slowdown in monetary policy tightening, will not completely abandon it, and the final quarterly US GDP data may turn out to be better than the preliminary ones, which will once again force investors to buy the dollar.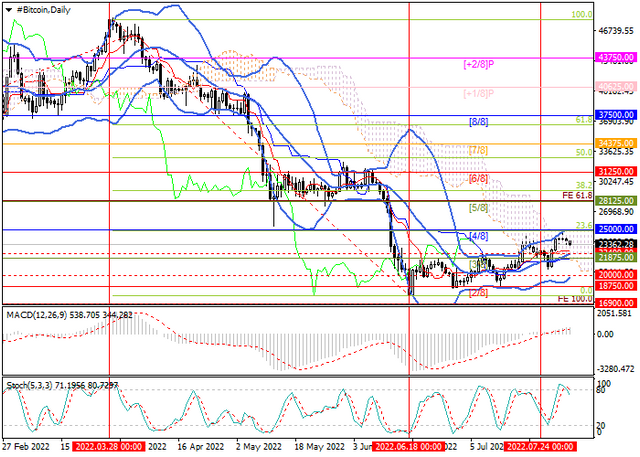 The price corrected downwards from the area of 24600, but for a serious decline, it needs to consolidate below the middle line of Bollinger bands around 22400. In this case, the quotes will be able to drop to 20000 (bottom line of Bollinger bands) and 18750. Otherwise, growth will resume to 25000 and 28125. Technical indicators suggest that the short-term uptrend will continue, as Bollinger bands are directed upwards, the MACD histogram is increasing in the positive zone, while Stochastic is leaving the overbought zone, but so far, the downside potential is seen as limited.
Resistance levels
: 25000, 28125, 31250 |
Support levels
: 22400, 20000, 18750​