GBPUSD - Active decline amid the rhetoric of the British authorities​
The key impact on the dynamics of the asset was made by the report of the new UK Secretary of the Treasury, Kwasi Kwarteng, who announced measures to stabilize the economic situation: also to support the payment of electricity bills, the situation with taxation caused special attention. The official noted that the government is working on a plan for a significant reduction in fees, for the implementation of which it will be necessary to raise an additional 72.0B pounds, and one of the ways the government announced to receive these funds is to reduce the amount of unemployment benefits, due to which the majority of the UK population now lives. After this statement, investors are actively redirecting their capital to other currencies, which may lead to the achievement of parity between the pound and the US dollar soon.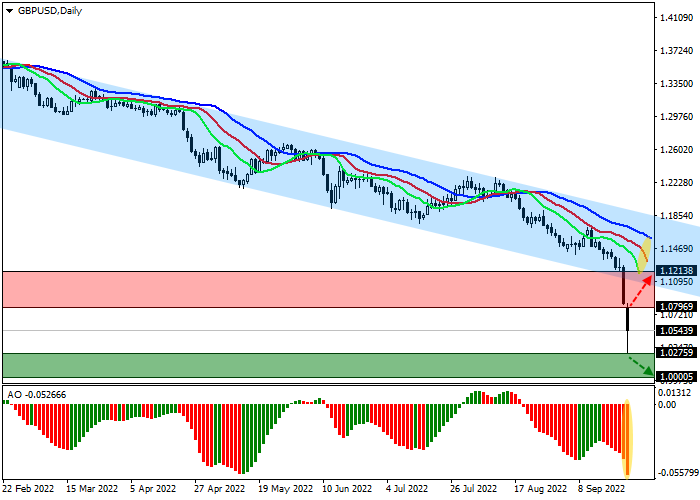 The trading instrument has left the boundaries of a long downward channel and, having broken the support line, is actively declining. Technical indicators maintain an increasing sell signal: the Alligator indicator's EMA oscillation range expands, and the histogram of the AO oscillator forms downward bars.
Resistance levels
: 1.08, 1.1214 |
Support levels
: 1.0276, 1​